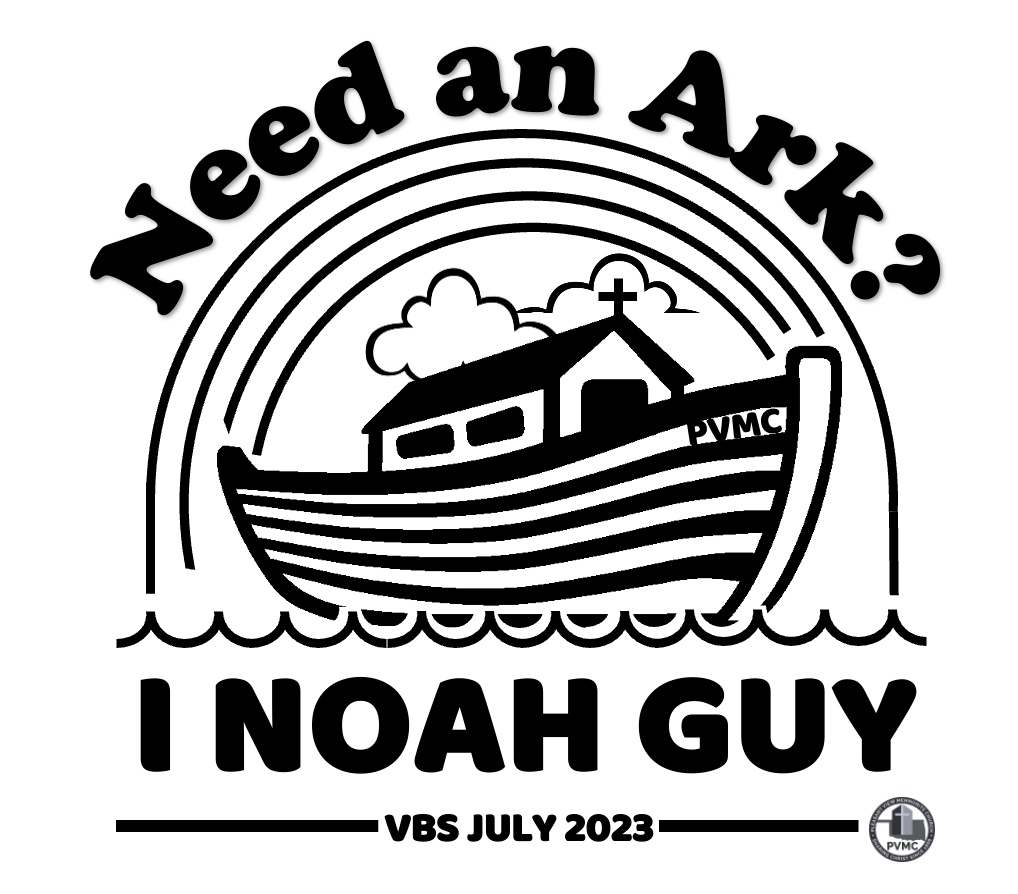 We're looking forward to a GREAT VBS this year! Come and join us as we learn about trust and faith through Noah and his friends.  VBS starts July 10 and runs from 6 PM to 8:30 PM each night.  Everyone is invited Thursday evening July 13 for our VBS wrap up and meal.
In the bulletin this week...
Worship Outline
We're excited that you chose to worship with us today! 
Clipboards, with fill in sheets, are available for the children to use during the worship service.
Welcome and Announcements: Pastor Jeff
Call to Worship: Michael Slagell
              "My Hope Is Built On Nothing Less" MH 558
              "A Wonderful Savior is Jesus" MH 546
Congregational Prayer:  Dakota Miller
              "Jesus Loves Me" (Children are invited to place their offerings in the Mission Globe)
              Songs of Praise
Scripture: John 15:1-8
Sermon: "Remaining in Jesus" Pastor Jeff
               "Spirit of God"
6 pm ~ Singing Evening Specials by: Devert & Kathy Thomas, Phyllis Stutzman, Clifford Zook, Dennis & Candace Slagell.
7 pm ~ Members' Meeting
Announcements
Members' Meeting All members are invited to be present for our quarterly members' meeting tonight at 7 pm.  The agenda for the meeting is as follows:  Constitution, SCMC Resolutions, Etc. Shop Representative Update, Parking lot resurfacing, Kitchen Remodel and Playground enhancements.
Church in the Canyon is Father's Day, June 18th. Worship will start at 9:30 AM followed by a meal provided by the elders. Transportation from the parking areas in the field down into the canyon will be available. Please dress comfortably and bring a chair or blanket to sit on. Worship this year will include a time for people to testify to God's faithfulness and be baptized. In the event of inclement weather, we will gather in the gym and fellowship hall.
Missions Globe Next week is the last Sunday for the current Missions Globe project, Heifer International Hope Baskets with chicks and rabbits.  Bring your spare change or bills to give to a child for deposit in the Missions Globe.  Our next project will be announced June 25th.
Vacation Bible School (VBS) is coming soon, July 10th -13th, and we need your help! We will need someone to oversee recess games as well as teachers and teachers' assistants for kindergarten, 1st grade, 2nd grade, grades 3-4, and grades 5-6.
Registration for VBS is now open on the church website.  Please register your child(ren) by June 30th so that we can order shirts.  If you have any questions or would like to help, please contact Dana Selzer, Becky Peachy or Cindy Hunt.
SCMC Summer Assembly The South Central Mennonite Conference Summer Assembly will be held July 21st – 23rd at Pleasant Valley Mennonite Church in Harper Kansas. The theme this year is "From Surviving, through Reviving to Thriving" and will be led by representatives from Forge America. The weekend will be filled with worship, fellowship, teaching and, of course, taking care of some conference business.  If you would like to serve as one of Pleasant View's delegates, please contact Pastor Jeff or one of the elders.
A New Church Barrel Train is being constructed The current barrel train has served the church and community well but needed some repairs.  A decision was made to build an updated barrel train with a different coupling system and wider wheelbase to promote greater safety.  If you would like to participate in the construction of the new barrel train, please contact Karl Stutzman or Pastor Jeff.  Donations for the new barrel train can be directed to the trustees. We are within $1200 of paying for the project.
Update from Cadon Detweiler I would like to say thank you to those who have committed to support me through prayer and financial support. In January, God called me to ministry. I pursued an internship with Cru as my bid into ministry and asked God to shut it down if it was not for me. God has since redirected my path. He has called me to serve with Victory Bible Camp in Alaska. I ask for continued prayers for a successful summer in Alaska and that God would continue to make known to me what He will have me do next.
Directory A preview of the church directory has been posted to www.pvmcok.org under the resources tab. Please review your page and send any corrections or pictures to pvmc.office@gmail.com. If you would like a printed version to review, please contact Amanda Miller.
Thank you  I want to thank all my church family for the prayers that were said during the time of my surgery and postop.  I feel better than I have in a very long time and am able to breathe without having to stop every few steps.  I also want to thank you for the gift card from Braum's.  It came in very handy when I didn't feel like cooking.  God is so good and faithful!  ~Lynn Jackson
Events
Today June 4, 2023 
  9:30 am Sunday School
10:30 am Worship service (live streaming on pvmcok.org)
      6 pm Singing Evening ~ Specials by Devert & Kathy Thomas, Phyllis Stutzman, Clifford Zook, Dennis & Candace Slagell
      7 pm Member's Meeting
This week June 5-10
Mon-Thurs 2nd thru 6th grade to Bible Memory Camp 
Mon-Thurs Fellowship Hall & Kitchen Reserved
Tue      6-8 pm TLC Thomas 1st Christian Church (Looming Class)
Thurs   1 pm -3 pm quilting in room #112
Next Sunday, June 11th 
 9:30  am Sunday School
10:30 am Worship service (live streaming on pvmcok.org)
Upcoming events             
June 18th Church in the Canyon ~ Father's Day
June 23-24th Church Reserved
July 10-13th Vacation Bible School
July 21st – 23rd SCMC Summer Assembly
July 28-29th Church Reserved
August 27th Promotion Sunday
September 29th-30th Church Reserved
Rocky Mountain Camp
June 11-16 ~ High School only
Prayer Requests
Add your prayer requests by contacting Pastor Jeff or the church office.
For our church family
That Christ may be seen in us.
Ruthie Miller & Family ~ Loss of her brother, John Bontrager
Our homebound members ~ Jeanette Peters, Vernon Slagle, Marjorie Shantz
Bible Memory Camp ~ Martha Miller, Lakyn Peachy, Axell Peachy, Hadley Thomas and Walker Thomas
Health Concerns

Melissa Detweiler~ Freedom from pain
Sherry Corrigan & her ex-husband, Drew, as he battles cancer
Warren Slagell
Lola Slagell
Dori Slagell
Mim Mast

Pastor Jeff /Dana & family
Elders & families
In our community   
For those who don't know Jesus as their Lord and Savior
Unity among believers
Local Ministries: Agape Health Clinic, Branch 15, Habitat for Humanity, Connections Food & Resource Center, First Choice,    Etc Shop, Hope is Alive
Health concerns

Bill Lacy ~hospice ~ Chrissy Eichelberger's dad
Janet Kauffman ~chemo ~Michael & Warren Slagell's sister
Gloria Loken ~Marjorie Shantz's daughter, Tim's sister

Our local, state, and national leaders

OK Senator Darcy Jech
OK Representative Anthony Moore
US Representative Frank Lucas & Alison Slagell
US Senators Mark Wayne Mullen/James Lankford & Bryce Slagell
Around the World
Serving in the US

Oklahoma MDS
Corey/Brooke Makeever -STUMO

Serving in other Countries

Befon Asiago -Lifeway Children's Centre
Rolly Walter family
Kiran Paul & Lakshmi -Berachah Ministries
Global Disciples
Looking for a Sunday School Class? Here are some options
Join Us
SUNDAY 
9:30 AM Sunday school for all ages
10:30 AM Worship (in person or online)
WEDNESDAY (Restarts in the Fall)
5:45 PM Meal
6:30 PM Activities for all ages